Partnership with Parents
The school community recognises and encourages parents as the primary educators of their children and works in partnership with all families to help children achieve to their potential.
Parents are welcomed and encouraged to participate in the life of the school in many ways. Parent help is invaluable in areas such as excursions, swimming, sports carnivals, tuckshop, reading groups, library, fundraising etc.
We request that all parents working with children visit the office and sign our Visitors' Register. A detailed description of protocols associated with school volunteers, visitors, and all staff including their rights and responsibilities as a part of the St John's community can be obtained from the schools office upon request.
Teachers will indicate how parents can assist in their children's classes at parent information afternoons held early in the first term of each year. From time to time special appeals for your assistance are made through our newsletter, and we appreciate your support when needed.
Code of Conduct for Parents and Volunteers
Parents and Friends Association
The members of our incredibly hard working and effective Parents and Friends Association coordinate the school tuck-shop, uniform shop, Three Saints Festival BBQ, social events, cent sale and working bees, and are major fundraisers for the school.
The P & F is an important body within the school community. Its role is to coordinate social activities, lend assistance with special projects and organise fundraising activities.
The aims of the Association are education, school promotion, fundraising and a forum for exchange of ideas and discussion. Parents are invited and encouraged to become active members of this body. In this school, the P & F Association is not seen as just a fund-raising body, but as an open forum where topics relevant to our school, our children and our community may be raised.
Each term the P & F attempts to organise events that focus on building and sustaining community. Meetings are held on the second Monday of each month at 9.00 am in the school library. Agenda items for discussion are welcome and must be given to either the School Secretary or a P & F Executive member by the Monday prior to the meeting. Hope to see you there!
Working Bees
Parents are invited to assist with planned school projects each term. Parental assistance helps to keep maintenance costs to a minimum but also builds bonds of friendship and community. It is anticipated that every family will support the school through their participation.
Community Involvement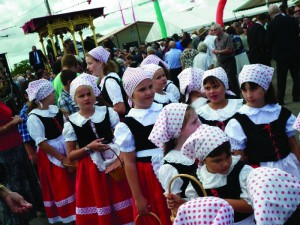 Our school is an integral part of the Silkwood community, contributing to its social and cultural life.
A major event in the life of the school is Australia's largest religious and cultural festival – the Feast of the Three Saints – held on the first Sunday in May (www.feastofthethreesaints.com.au). St John's small school environment creates a family atmosphere with the capacity for everyone to become involved in social and family orientated events.
I immediately felt part of a strong community. I was welcomed in and encouraged to become actively involved in my children's education. The many school social events build on this community spirit, getting teachers, parents and students together in a relaxed environment. Through St John's active P & F Association I feel I do have a say and my opinion is valued.
Mrs Sandra Andrijevic
Ex Parent & long serving P&F member