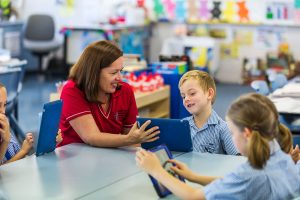 St John's provides a challenging learning environment where students can achieve their potential across all Learning Areas, with an emphasis on English and Maths.
Classes are rich with diversity of students and at St John's, programs are created with the understanding that children develop and learn differently. All learning programs are developed to cater for different learning styles.
Class sizes
Our small school setting with an average class size of 18 has an excellent teacher/student ratio which creates an optimum learning environment.
Academic Results and Student Support
St John's positive school climate has contributed to students performing well academically.
Teaching and learning, informed by detailed analysis of annual national testing (NAPLAN) and other assessment data, aims to extend all students academically.
Early and systematic diagnostic identification strategies and intervention plans are implemented to help students in need of learning support or extension. Classroom teaching is supported with school officer assistance. Students also have access to visiting specialists and a school counsellor.
Our targeted professional development in literacy enrichment has attained terrific student improvement to date and promises to further promote St John's as a school of academic achievement.
Gifted and Talented students are encouraged to achieve to their full potential. Integral to the success of our gifted and talented program is participation in academic competitions at local, state and national level across a number of curriculum areas.
"St John's successfully blends excellence in academic performance, creative arts and sports. The school offers state-of-the-art technology and inclusive, flexible learning environments. All children's needs are well catered for."
Mrs Cassandra Scopelliti – Parent and past St John's P&F President