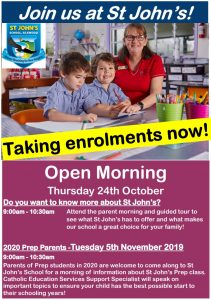 Come and find out what St John's is all about. We have two very special events coming up.
Thursday 24th October 9-10:30 am attend our Open Morning to hear all about us, and take a tour around our beautiful school.
Tuesday 5th November 9-10:30 am we are holding our Prep for 2020 Parent Information Morning. A great way to learn all about what to expect in their first year and when to tap into our Transition to Prep mornings.