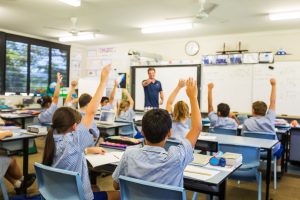 Staff members at St John's are committed to achieving excellence in teaching and learning. All our staff undertake regular professional development to keep abreast of current educational trends including the implementation of the Australian Curriculum.
Our targeted professional development in literacy enrichment has attained exceptional student improvement to date and promises to further promote St John's as a school of academic achievement. All teaching and support staff work to ensure that we have a collaborative approach to teaching, learning and assessment that is up-front and explicit.
Programs are created with the understanding that children develop and learn differently and with an awareness of multiple intelligences and different learning styles.
The curriculum taught at St John's School encompasses all Learning Areas (LAs), with an emphasis placed on English, Mathematics and Religious Education. Other LAs include Science, Studies of Society and the Environment (SOSE), Health and Physical Education (HPE), The Arts (Music, Art, Drama), Technology, Language Other Than English (LOTE) – Japanese.
Curriculum initiatives include Social and Emotional Learning, Information Communication and Technology, Speech and Drama, Music Tuition and a Literacy Enrichment program.
Private music tuition with a qualified teacher is offered during school hours. Students have access to saxophone, trumpet, guitar, clarinet, trombone, flute, drums and other instruments on request.
Speech and Drama is taught by an experienced and qualified teacher to all students from Prep to Year 6 in preparation for eisteddfod work. Private tuition is also available.
At St John's, we value Sport and Health education and are affiliated with the Silkwood/Mena Creek Sports Association. Students have school, interschool and representative sporting opportunities in a variety of team and individual sports which include: Soccer/Netball, Softball/T-Ball, Athletics, Cross Country, Kanga Cricket, Swimming, Tennis, Touch Football and Rugby League. Students also participate in our school-based Health & PE program.
My daughter has blossomed socially, academically and emotionally in St John's small class cohorts. I love teaching here because as a small school, teachers and students have wonderful opportunities to engage in teaching and learning experiences that are unique. Our teachers tailor lessons to suit the specific needs of our students and ensure that all children reach their full potential. Our teachers place high importance on assessment to inform their subsequent planning. The analysis of NAPLAN results informs our whole school curriculum focus.

The generous amount of professional development staff receive at St John's enables me to remain up-to-date and well prepared to teach students the required content of the Australian Curriculum, utilising our wonderful ICT resources.
Mrs Debbie Daly
Parent, class teacher and curriculum support teacher