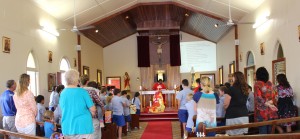 It is always a joy to welcome people of our Silkwood Parish which includes communities at El Arish, Kurrimine Beach, Japoonvale and Silkwood.
Like so many other parishes across the country and the western world, we do feel the impact of smaller worshipping communities, but our faith tradition and practice is both deep and strong. In our faith life we strive to provide support and service to the communities in which we live, and maintain a proud liturgical tradition and practice.
The parish embraces two Catholic Churches including St John's at Silkwood and Our Lady of Fatima at El Arish.
I am confident you will find in St John's School all the hallmarks of our wider parish life. It is my hope the school will provide a worthy doorway for you into the wider faith community that is our home in this area.
Welcome and blessings.
Mass Times

St John the Evangelist
Harold St., Silkwood
Saturday, 5.30pm Reconciliation

Vigil Mass 6.00pm

3rd Saturday, Anointing during Mass

Our Lady of Fatima
Glasgow St.,
El Arish
Sunday, 9.40am

Reconciliation

Mass 10.00am

3rd Sunday, Anointing during Mass